Powered by SpecialChem & Agilis
Finally a PIM Designed for the Chemical Industry
Launch your Product Information Management system in a matter of days and start sharing up-to-date product data and documentation with your teams, business partners and digital channels with one-click!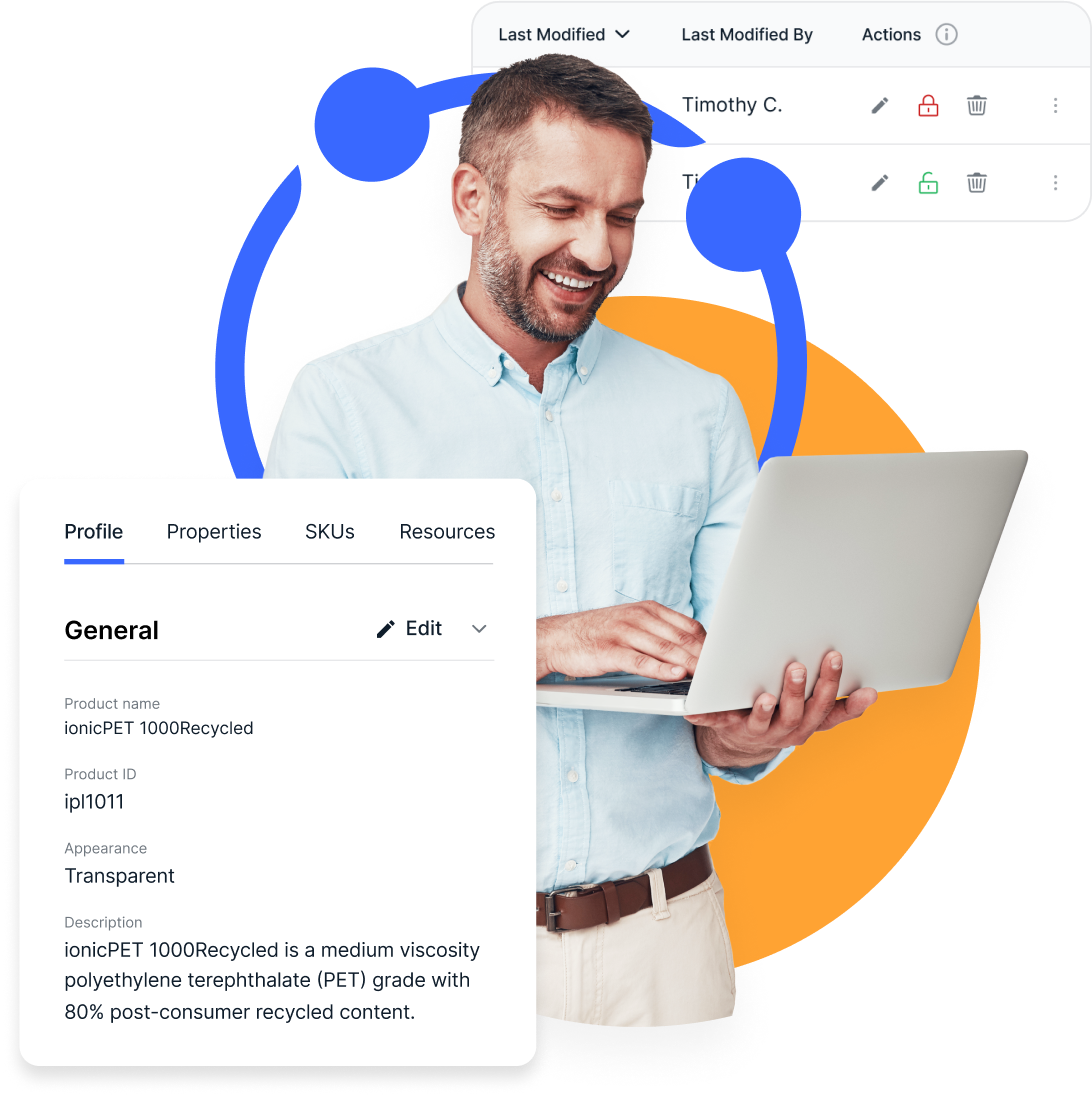 ionicPIM is the result of 20+ years of experience in building the largest online catalogs of commercially available chemicals (5,800+ suppliers, 350k products)
Single-source of truth: always on, always right
Exhausted of managing your product data and documentation in Excel sheets and emails?
Collect, organize, and enrich all relevant product information in one place. Give your teams, customers, distributors, IT systems and digital channel partners instant access to up-to-date product data and documents. Anytime, from anywhere.
Producer - Distributor PIM-to-PIM connection
Tired of sending or requesting product documentation again and again?
With ionicPIM, producers and distributors share product data and documentation with one-click, enabling faster distribution of the most updated content, while reducing the number of unnecessary emails and phone calls.
Chemical-specific PIM: easy implementation, faster results
Afraid of never ending IT projects?
Designed by chemical industry professionals, the ionicPIM data model and workflows are built to meet the specific needs of the industry, resulting in faster implementation while reducing project risk. Our industry experts can support every phase of the rollout including initial data setup, so you can hit the ground running!
ionicPIM brings unique benefits
All the capabilities of a standard PIM system, plus special features for chemical producers and distributors

Designed for business users to create and operate

Built-in chemical data models

Producer - distributor PIM-to-PIM connection

Chemical-specific nomenclatures

Multi-industry product views

Direct data export with SpecialChem

Integration with Agilis Digital Commerce platform

Support with product data input and maintenance
Powered by Agilis & SpecialChem
An information system designed BY and FOR chemical industry professionals
ionicPIM is the product of collaboration between SpecialChem, the world's leading material selection platform, and Agilis, the premier provider of digital commerce solutions for the chemical industry. Both companies were founded by seasoned industry professionals with decades of experience working for companies such as Arkema and BASF, with the explicit mission of bringing digital buying, selling, promoting, and product information management practices to chemical producers and distributors.

Want to learn more?
Our team is happy to answer questions and do a demo for you.
Get notified on new marketing insights
Be the first to know about new B2B SaaS Marketing insights to build or refine your marketing function with the tools and knowledge of today's industry.