Powered by Agilis & SpecialChem
The industry-specific PIM that unlocks chemicals digitalization
Mastering information management is at the core of digitalization. Support sales and marketing efforts, enrich product catalogs and align producers and distributors with a centralized product data and document management system powered by ionicPIM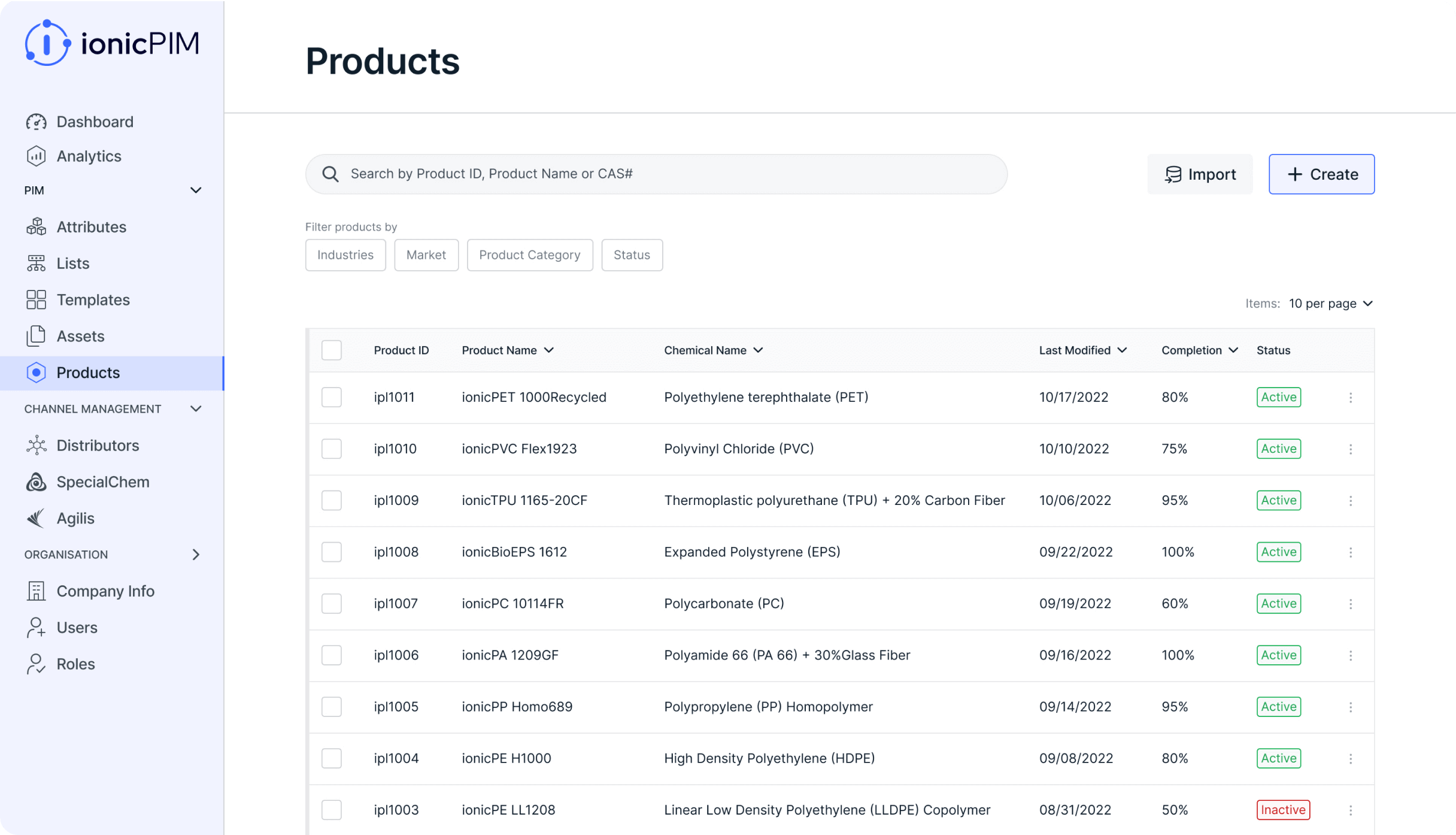 Collect & Enrich
Collaborative product edition

Multi-sources imports

Industry-specific product views

Product enrichment
Centralized product edition
One centralized repository for marketing, sales, digital, product management, regulatory, laboratory and communication to gather product information
User-friendly and intuitive interface
Clearly defined roles and permissions
Import of product information from a variety of sources
Mass import of structured product data and documentation from a variety of sources: ERP, MDM, structured files
Direct product import from producers' ionicPIM into distributors'
Manual data editing through user-friendly interfaces
One product, multiple industries, multiple descriptions
Ability to edit industry-specific attributes for each product
Industry-specific product experience for customers
Going beyond technical data sheets
Possibility to attach digital assets to each product (pdf, images, videos, etc.)
SEO-enhancing expressions stored at product level
Distribute with high connectivity
High connectivity

Multi-level access rights

Digital systems & channels settings

Product Information Exchange Model
Internal teams, customers, distributors, IT systems and digital channels to feed with your product data
Ability to view product information directly in ionicPIM
Possibility to define individual access rights for internal teams, customers and distributors
Mastered distribution
Different levels of data consumption
Ability to View vs. Download vs. Connect PIM-to-PIM defined at Company and/or User levels.
Synchronization of product data with digital systems & channels
Setup and manage data feeding to both your internal (corporate websites, customer portals etc.) and external channels (SpecialChem, marketplaces, etc.)
Setup and manage data feeding of your IT systems (CRM, ERP, sales enablement tools, catalogs, eCommerce portals including Agilis', etc.)
An embedded Product Information Exchange Model for instant connection
Native ability to connect your ionicPIM instance with the one of your partner's (distributor or producer) thanks to our embedded Product Information Exchange Model.
Preconfigured for chemicals
Chemical-specific product data model

Preconfigured nomenclatures

Chemical producer <> distributor connections

Product data editing staff available
A preconfigured chemicals-specific product template
Ready-to-use product templates to ease and speed up PIM adoption
Possible to describe a product differently by targeted market
Preconfigured data fields (CAS Nbr., etc.)
Pre-built chemicals-specific nomenclatures
Dozens of fully populated lists corresponding to the big attributes of chemicals (Industries, Applications, Claims & benefits, INCI names, Properties, Conversion Modes, etc.)
Several thousands of attributes describing each big industry
Ability to create your own lists on the basis of the preconfigured ones
Natural connectivity between producers & distributors
Ease of connecting producers and distributors of chemicals thanks to the ionicPIM Product Information Exchange Model
Information entered into ionicPIM respecting this model is automatically synchronized with other ionicPIM instances
Product information input support by ionicPIM experts
Possibility to get support from ionicPIM data entry staff to feed your PIM
Specialized staff with industry and data management knowledge
Part of Your Digital Journey
Dense roadmap of features

Digital Marketing with SpecialChem

Digital Commerce with Agilis
A continuous delivery of new features
Continued development and innovation to bring you new features and capabilities
Development of a series of connectors and applications
Natural connectivity with world's leading material selection platform
Easy synchronization of your product information with the SpecialChem platform
Always up-to-date product set, product data and product documentation
More information displayed on SpecialChem ("Where to buy", etc.)
Easy plugging into digital marketing
Integrate with your branded commerce portal on Agilis
Easy synchronization of your product commerce portal on Agilis
Powered by Agilis & SpecialChem
An information system designed BY and FOR chemicals professionals
ionicPIM is the product of collaboration between SpecialChem, world's leading material selection platform, and Agilis, the premier provider of digital commerce solutions for the chemical industry. Both companies were founded by seasoned industry professionals with experience of working for companies such as Arkema and BASF, with a mission to bring digital buying, selling, promoting, and information management practices to chemical producers and distributors.